At the end of 1954, Vespa introduce the GS150 to the world.   It had so many innovations that it became a wake up call to all other manufactures, especially Lambretta.  The 10 inch wheels with bigger brakes, the more aerodynamic body, the powerful engine that could happily rev to 7000rpm, the dual seat, the long range tank and the headlamp on the handlebars all set a new standard.  Over 60 years later, the Vespa PX isn't a lot different and for me, no where near as stylish.
In 2014 I discovered that my son's next door neighbour in Sweden had a 1955 VS1T GS150 and I couldn't resist making him an offer.
I checked the engine and chassis numbers, which proved the scooter was genuine.
We knew it would have to be restored by an expert so we handed it over to Rolf Axel.
Rolf took it apart and discovered it needed blasting back to bare metal and a new floor.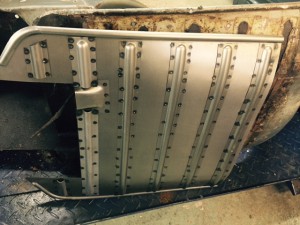 This is the floor that needs welding to the underside.  Hopefully, this work will start in September 2016.